Product Info : Product Overview
Making an Educated Decision
With all the hardwood options available today, deciding on a new hardwood floor can seem a bit overwhelming. This section of our website is designed to assist our customers with making an informed decision. Purchasing a new hardwood floor is a significant investment and

The Hardwood Floor Company

is committed to offering the best product options to meet our customer's expectations and budget. Unlike other flooring options that need to be replaced every 5 to 10 years, wood floors will last a lifetime…so we want to make sure our customers get exactly what they want.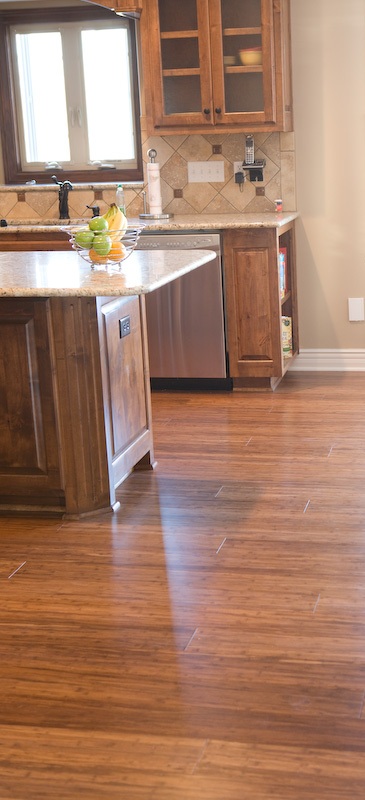 There are many factors to consider when deciding on a new hardwood floor. If your project includes a high-traffic area and

durability

is a concern, then you may want to select a species that has a high Janka rating. Maybe durability isn't a concern and you're interested in a rustic or wide-plank floor that can be distressed or hand-scraped to replicate floors from the past. Or maybe you're looking for something exotic and unique to show off to your friends and neighbors. Whatever it is that you're looking for, it's important to choose a product with the texture, grain, and color that fits both your style and budget and has the durability and stability to stand up to your normal day-to-day traffic.

"Most of the homes in the KC area have 2 ¼" red or white oak. There is absolutely nothing wrong with red and white oak but if you're looking for something a little different, you've come to the right place!"

The picture to the right displays a Strandwoven Bamboo floor that is produced by compressing strands of bamboo fibers under intense pressure and glue. The end result is a product that is twice as hard as red oak and extremely stable.