Maintenance : Regular Maintenance
Day to Day Maintenance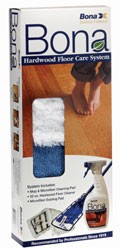 With today's advances in wood flooring stains and finishes, cleaning and maintaining your wood floors has never been easier. In fact, properly finished hardwoods are the easiest of all flooring surfaces to maintain and keep looking new. For general day to day cleaning, we recommend Bona's Hardwood Floor Care System. Please contact our office if you're interested in purchasing a cleaning kit or have questions on where you can find one. Remember it's never a good idea to wax or oil a polyurethane finish and please DO NOT use any harsh cleaning agents such as Comet®, SOS® Pads, Mop-N-Glow®, Murphy's® Oil Soap, etc. on your hardwood floors.

1. Use the microfiber dusting pad to sweep your floors regularly. Dirt and grit will damage a hardwood floor by scratching the surface. If you do not own a microfiber dusting pad, we recommend sweeping with a soft bristle broom or vacuuming with a soft brush attachment. Do NOT use steam cleaners on your hardwood floors. Any throw rugs or door mats must also be cleaned regularly as the dirt from them may spread to your hardwoods.

2. Wipe up spills immediately with a slightly dampened towel.

3. For general cleaning, use the Bona Swedish Hardwood Floor Cleaner and spray an area directly on the floor or on the microfiber cleaning pad. Wood and water don't mix, so never wet-mop a wood floor. Standing water can dull the finish, damage the wood, and leave a discoloring residue.
Please read here for more tips on maintaining your hardwood floors.