Product Info : Finish Alternatives
Factory Finished or Site Finished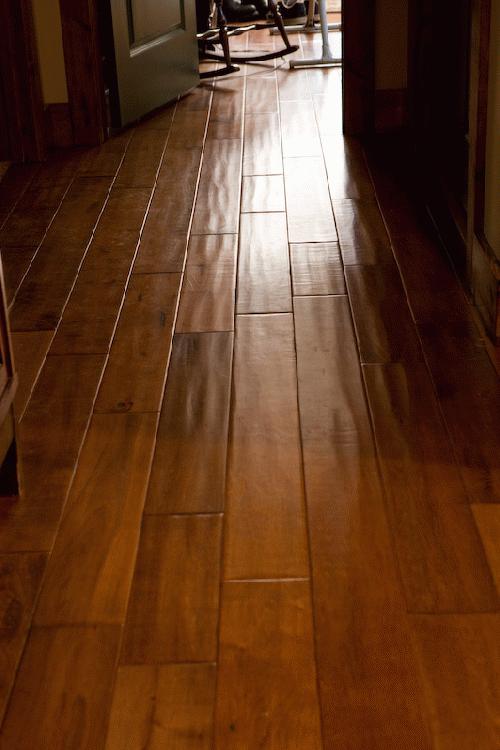 A hardwood floor can either be prefinished in a factory or site finished in your home or business. There are a few pros and cons to each method and choosing the right method often boils down to the amount of customization you desire.

Prefinished hardwood floors are finished in a factory with anywhere from three to ten coats of UV finish. Sometimes aluminum oxide is added to extend the life of the finish. The finish applied in the factory is generally considered more durable than the finish applied on site but that doesn't mean it won't scratch. Every finish is susceptible to scratches no matter how durable the finish but the good news is that prefinished hardwoods can be re-coated or refinished the same as site finished hardwoods.

Today's factory-finished floors come in a wide variety of species, colors, and widths but the level of customization is not nearly the same as with site finished hardwoods. Manufactures will generally only carry a few different colors and widths for each species. With site finished hardwoods we're able to customize the stain color exactly how you like it. We're also able to apply a finish with the exact sheen that you desire.

One of the main aesthetic differences between prefinished and site finished hardwoods is the micro-beveled edge that can be seen around each plank. Since prefinished hardwoods are not initially sanded on-site, the beveled edge is used to offset any height differences due to an uneven sub-floor. When prefinished hardwoods are refinished, these bevels may go away or will definitely be reduced.



When prefinished may work best


• In high traffic areas that receive heavy wear and tear - factory finishes are more durable.
• If you want to avoid fumes and dust.
• If budget is a concern - slightly less expensive to install because no sanding labor involved.
• If your under time constraints - quicker installation



When unfinished may work best


• If you need "lace-in" or match to an existing floor.
• If you want to customize the stain color to match existing trim or cabinets.
• If you don't like the look of the beveled edges of prefinished.
• If you are looking for an unusual wood species or plank width.
• If your home has historical significance or your trying to maintain it's architectural integrity.


Site Finished Product Types
There are basically two kinds of finishes applied on site, surface finishes and penetrating finishes. Surface finishes are the most popular choice for hardwood professionals because they are very durable, water resistant, and require very little maintenance. Surface finishes are blends of synthetic resins and are commonly referred to as urethane's or polyurethanes and they provide a protective coating on the surface of the hardwood. There are several different types of surface finishes but we will focus on the three different types that

The Hardwood Floor Company

uses.



OIL-BASED

urethane's are the most common type of floor finish. This type is very easy to apply and generally drys in about 8 hours. We typically apply 3 coats of this finish and it has a yellowish or amber tint.
• Economical
• Easy to apply and touch-up
• Moderate odor
• Slow drying time
• Very durable
If you're interested in this type of finish, check out Poly Var or

Poloplaz

for more information.



WATER-BASED

urethane is a waterborne finish that dries as the water evaporates. These finishes are very clear and non-yellowing. We generally apply 3 coats of this finish as well - however multiple coats can be applied in the same day since the finish dry's in 2 or 3 hours.
• Expensive
• Clear – resist yellowing over time
• Low odor
• Very quick drying times
• Very durable
If you're interested in this type of finish, check out Bona Traffic for more information.



CONVERSION VARNISH

is a clear, non-yellowing finish that dry's in about 8 hours. This finish is commonly known as a Swedish finish and it produces an extremely strong odor and should only be applied by a highly skilled wood flooring contractor. This finish contains very strong chemicals and formaldehydes – extra caution is needed.
• Expensive
• Clear to slightly amber
• Very strong odor
• Fast drying
• Extremely durable
If you're interested in this type of finish, check out Glitsa line of products for more information.


Finish Sheens
All of the finishes listed above come in a variety of sheens from glossy to matte. A glossy finish will have the most shine and luster and will reflect the most light. The matte finish is on the opposite end of the spectrum and will have the least amount of shine. A satin finish will provide a happy medium between the two.

Our most popular finish is made by Old Western, called

Poly Var – Velvet Sheen

. This finish falls somewhere between a satin and semi-gloss. Not only does this finish look awesome and provide the shine customers are looking for but also wears extremely well and doesn't tend to lose any luster over time.

Many customers are initially drawn to the glossier finishes but it's important to keep in mind that the shinier the finish is, the more it will tend to show imperfections and scratches. Generally it's best to use the shinier finishes in low traffic areas. At the end of the day it really boils down to a customer's preference and the expected traffic levels.

The Hardwood Floor Company

will be happy to show you samples if you are having trouble deciding.